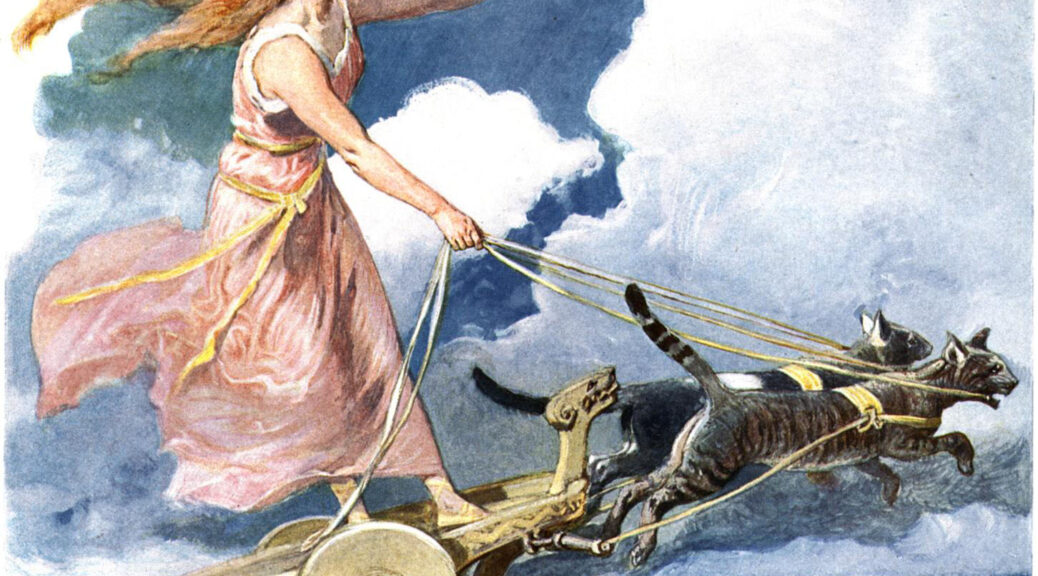 Freyja is one of the most beloved and respected gods in Norse mythology. She is a goddess of love, fertility, beauty, and war. Freyja is a complex deity, known for her wild and passionate spirit, yet also for her determination and courage.
Freyja's Origins
Freyja is described as an incredibly beautiful and powerful goddess. She is the daughter of the sea god Njord and sister of Freyr, with whom she shares a special bond. Her husband is the god Od and their union granted her with the power to visit the other realms (the underworld, the heavens, and the realms of the gods). She, Freyr, and Njord are members of the Vanir, as opposed to the Aesir. The Aesir and Vanir once fought each other but then made a truce. Thus Freyja, Freyr, and Njord came to live with the Aesir as part of the truce.

Goddess of Love and War
In Norse mythology, Freyja is associated with fertility, beauty, and love. She rules over the realm of love, and is responsible for bringing joy and happiness to all who seek her out. Because her power is so strong, some stories say she can make even the most hardened warrior fall head over heels in love with her. Freyja is also associated with war and battle, and is the leader of the Valkyries—the shieldmaidens who chose those destined for Folksvangr and Valhalla. She gets first pick of the dead, even over Odin.
Chooser of the Slain
Freyja is a collector of souls, and accompanied the souls of the dead to her hall of Folksvangr. She weeps golden tears for the fallen. Often, she rewards a brave or loyal warrior with a necklace created from her tears. The necklace, known as "Brisingamen," is so precious, Freyja was willing to exchange sex for it with the dwarves who created it.
Aside from her many roles, Freyja is also a protector of great wisdom and knowledge. She is often invoked during times of distress and holds a great deal of power over fate and the future. She is both compassionate and powerful; a friend and a savior.
Freyja in Modern Times
Freyja is an incredibly popular goddess in modern times, and she inspires many who seek out the Norse gods. You can learn much by studying her life and understanding what makes her such an important and powerful deity. Her bravery, passion, and determination have all been sources of solace to those in need of divine encouragement. Freyja is a wonderful example of the beauty and strength we can gain by understanding the gods of the Norse pantheon.
—
Did you know you can become my patron for as little as $5 a month? This entitles you to content not posted anywhere else. Plus you get to see posts like this three days before the public! Without patrons, I'd be having a very hard time keeping this blog going. Become a patron today!
Become a Patron!