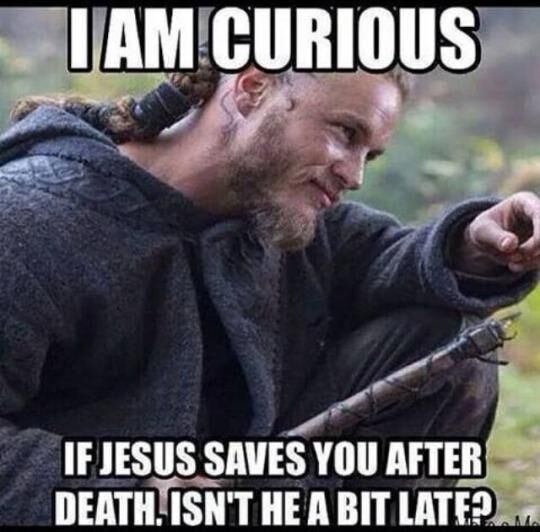 Twelve Reasons Why I Follow the Heathen Gods and Not the Christian One (Part One)
Twelve Reasons Why I Follow the Heathen Gods and Not the Christian One (Part One)
Sure enough, a Christian came on board and asked why I believe/follow the Heathen gods. I have tons of reasons why, but I'll be happy enough to mention twelve. The problem is my explanations are lengthy, and I have a lot to say, which means this is probably going to go over three posts. Which is fine, since I've been failing miserably at keeping my posts up.
If you're a Heathen, chances are you will find my arguments useful, especially if you have to talk to a Christian (ahem,…family member?) about why you're Heathen and not Christian. No doubt there are other reasons, but I back my statements with facts and science. So, feel free to quote me.
So, without further ado, here are my first four reasons for why I follow the Heathen gods.
12. The bullshit Adam and Eve story being taken as fact.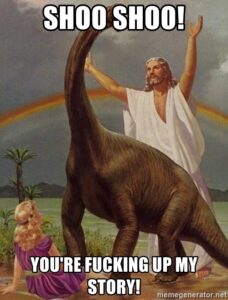 Not a reason for why I follow the Heathen gods, but rather why I don't follow the Christian one. First on my list is the Christians' entire creation story of Adam and Eve. Yes, I know this is in the Torah, but I suspect that most Jews don't take the Adam and Eve story as fact. If you believe that Adam and Eve were actually real, you're an idiot.
Billions and Billions…
The Earth is billions of years old. Yes, BILLIONS. That means if you subscribe to the whole Genesis thing, you're essentially a creationist that believes the first Homo Sapiens came into being about 6000 years ago. (That's counting back all the lineages from Jesus to Adam.)
But we know thanks to Archaeology and Paleontology (Science, people!) that our species of Homo Sapiens evolved some 200,000 to 300,000 in Africa. We left Africa some 100,000 years ago in a migration. So, Adam and Eve could not have existed at all, let alone 6000 years ago.
Adam and Eve–Seriously, People?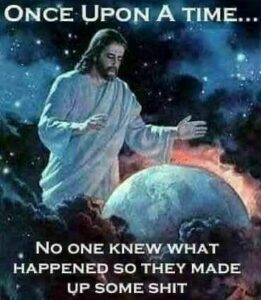 Yes, yes, there was most likely a mitochondrial Eve whom all humans obtained their mitochondria from, who lived some 150,000 years ago, but this isn't the Eve of the bible. In fact, it's an unfortunate term, because the bible thumpers use this as proof for an Eve. Just as there was a Y-chromosomal Adam (again, unfortunate term) who lived somewhere between 180,000 and 560,000 years ago. Never mind the fact that "Adam" couldn't have been an actual Homo Sapiens, but was probably one of the precursor homids we evolved from.
What apparently happened is due to the two or three times humans nearly went extinct, those with mitochondrial Eve's mitochondria survived, just like those with Y-chromosomal Adam's Y chromosome, survived. Kids, it's not rocket science. And I should know, being a former rocket scientist.
Yahweh the Asshat
Okay, so we've cleared the existence of Adam and Eve up, it's time to analyze the story, itself. Looking at the whole Adam and Eve story suggests that the Christian god is a serious wanker. He creates two naive adults (that are basically children), puts a tree of knowledge in their garden, and tells them not to eat from it.
I don't know about you, but what responsible adult would do that? Let's change the tree to a firearm, god to a parent, and Adam and Eve to a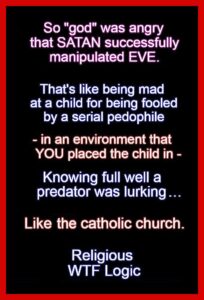 brother and sister. Now, tell me, would you leave a firearm out where kids could get them? I thought not.
Furthermore, we have a supposedly all-powerful, all-knowing god. Would a decent god who knew what would happen would stick a tree and a serpent in the Garden of Eden to tempt them? Seriously? Who does that? A sadist, that's who.
Where the Christians Get it Fucked Up
You might be interested in how the whole Christ myth plays into the Adam and Eve story. You see, Yahweh was so pissed off, that he allowed Adam and Eve's original sin to get inherited by all their descendants. So, we all do time for a sin committed supposedly by the first humans. Let's pretend we're lobotomized for the moment. What judge would make the innocent great-grandson of a murderer do time? And not just the innocent great-grandson, but the innocent sons and daughters of the murderer, their kids, their grandkids, and anyone else in the line, in-perpetuity?
Now, wait, it gets better. Send your son down to Earth, have him antagonize officials enough to get himself crucified so he can redeem all of humanity for the sins of the first supposed humans.
But science proves there wasn't an Adam and Eve, right? So, what does that say about Jesus's sacrifice?
Ask and Embla (the Norse Adam and Eve)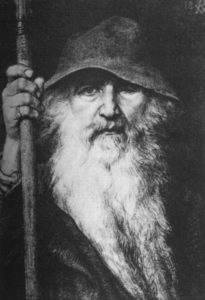 Okay, so you've read the whole Norse creation myth how ice and fire collided to make a rime, and a cow licked the salt from Ymir. And how Odin and his bros slayed Ymir and created Midgard. And how Odin and his bros created Ask and Embla…
Guess what, people? It's a fucking story by an Iron Age culture how the world came into being. It isn't fact. It is a story told by people with limited knowledge of the world how it was created. That means it may have kernels of truth in it, but a lot of it is just storytelling.
Next…
11. Eternal damnation for not believing
Okay, this is rich. You don't believe in Yahweh or Jesus, and you burn in Hell forever. You sin against god's laws and you burn in Hell forever. Hels Bells, even the US penal system only keeps you incarcerated for life if you're really bad, and puts those to death who commit really heineous crimes.
Yeah, Heathens have our own version of the Christian Hell in Niflheim called Nastrond. Murderers, adulterers, and oath breakers get chewed on by a dragon.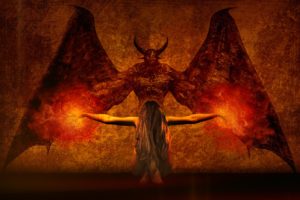 (I kind of like this), but honestly, is it for eternity? We don't know. And oddly enough, Valhalla has plenty of adulterers, oathbreakers, and murderers, according to the sagas, so I really doubt Nastrond keeps them all there.
I'm not sure what to think about Nastrond. Is it a Christian addition to our stories, or does it really exist? Even the Greek Hades had a place where people who sinned against the gods got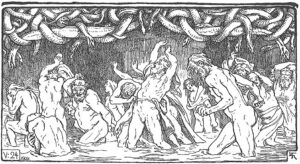 eternal punishments, but for the most part normal people existed in Hell as shades. Heroes were brought to the Elysium Fields. Everyone else just sort of hung around in an okay sort of afterlife.
So, do murderers, oathbreakers, and adulterers go to Nastrond forever? Hel is often fair, which makes me think the punishment fits the crime. Break an oath or cheat on your spouse once, and maybe you get gnawed on for a bit. Commit genocide and start a world war, and maybe you get chewed on for as long as it takes. But what do I know?
10. Heathenism is an ancient religion; Christianity is a new religion
Let's talk religion, shall we? Heathenism is an ancient pagan religion that has its roots in animism. We were some of the last pagans before Christianity took hold, because the Norse were in remote areas.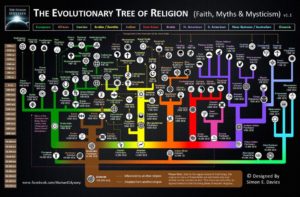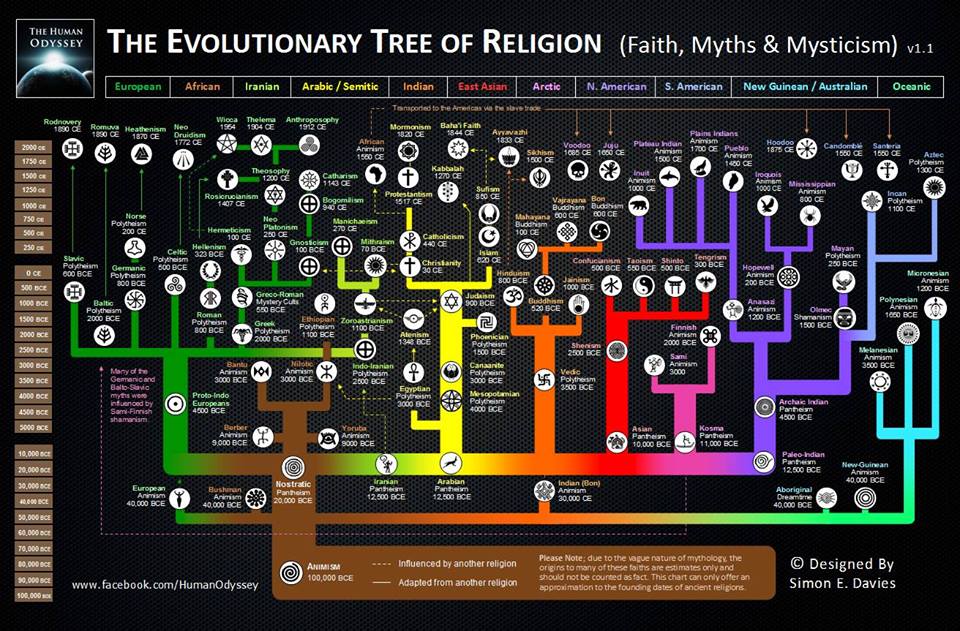 Although religion primarily came from the Middle East, we still have proof that Stonehenge and other monuments were erected some 5000 or more years ago–around the same time as the Sumerians were creating their own monuments. I can't say that Heathenism sprung from these early roots of sun and moon worship, but certainly there are links to shamanistic and animistic beliefs.
From what I can tell, Heathenism in the Nordic cultures came out of pro-Germanistic beliefs, thought to appear somewhere around 500 BCE. Yahwism appeared around 1000 BCE but he was a Canaanite god who was one of many gods and goddesses. He even had a spouse named Asherah who was worshiped with him. Judaism didn't start being monotheistic until somewhere between 515 BCE and 70 CE. And Christianity didn't really appear until about 42 CE with Paul's proselytizing.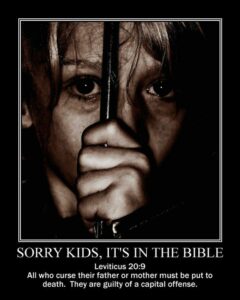 You may be able to point to Judaism and say your religion started with that, but honestly, not so much. You don't follow all the laws laid down in Leviticus–you mix meat and milk, you mix different types of textiles, and you probably eat pork. And you certainly don't kill your kids for being disrespectful. Not to mention that you now celebrate the Sabbath on Sunday and not Saturday.
9. Heathenism does not preach; Christianity is a religion of proselytizers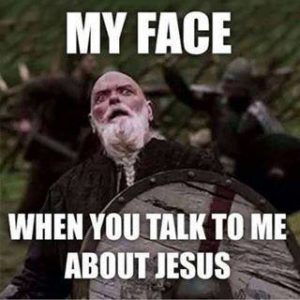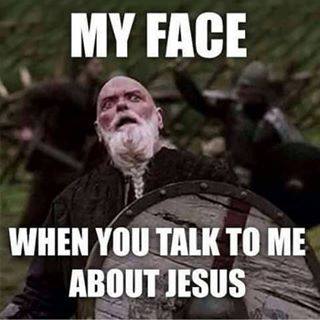 When was the last time you had a Heathen knock on your door and ask you if you knew about the good news from Odin?
As Heathens (and Pagans) we really don't give a shit about what others believe as long as their religion doesn't interfere with our rights. Look, you can believe your garbage about creationism all you want, but I draw the line when you try to teach kids your Yahweh and Jesus myths as fact. Just like I draw the line at having legislators come up with deeming a human life starts at conception (thank the Roman Catholic Church and evangelicals for that.)
Look, I don't give a shit if you have a nativity scene or Christmas lights at the State Capitol. I don't care if there's an Easter Egg hunt on the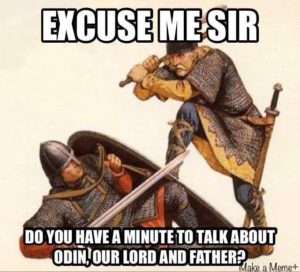 White House's front lawn. What I care about is whether you decide to make Christianity the main religion of the United States.
Heathenism isn't about proselytizing. It's about your relationship with the gods and nature. A Heathen has a relationship with his or her gods and nature, and doesn't really give a shit what you believe as long as you don't shove it in his or her face.
Tune in next week for my next set of why I follow the Heathen gods.