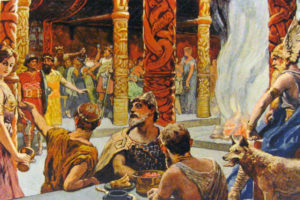 I ran into this post by the 21st Century Viking about Winternight, and I got a good feeling about it.  I could understand the writer's general feelings about Samhain, seeing as I really don't have much love for the holiday.  But what fired me up was her wording:
For the Ancient Vikings this was a time to celebrate, this was the beginning of winter. They had come home from raiding and trading, winter was starting, and they were going to start the Winter Hunting.
Winter Hunting?  Oh yes, count me in!
Winter Hunting after Winternight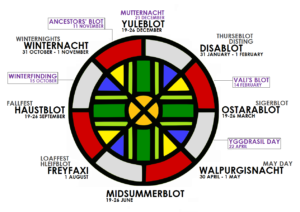 Yes, I know Winternight is something from Stephen McNallen, and while I am not a big fan of AFA, I'm not against the holiday of Winternight, per se. It makes a certain amount of sense to me to mark the end of summer activities and go into autumn/winter activities. Like 21st Century Viking, I've never been fond of Samhain, so it stands to reason that something like Winternight appeals to me.  Perhaps what's missing is Winter Hunting, which I could totally get behind, because I hunt as a semi-subsistence hunter.
I had been in a fairly foul mood recently because the clock is ticking for me to get my animals into the freezer and I lost two precious hunting days due to family obligations. I realize that it's just fate, and no matter how well you plan for something, life inevitably intrudes.  It's the chaos factors at play here.  What should've been six animals in my freezer are only three because of yours truly, problems with "buck fever," (look it up) and bad luck. I can look in the mirror every day at whose fault it is–is that Loki behind me?– but one must treat each hunting day as a new day.  Last year, I brought home the majority of the meat, but this year looks sparse.
So, with Winternight, we're entering the Winter Hunting cycle, and I hope I can make more successful so we'll have enough food for the year.  Otherwise, I may have to get creative on buying meat.  The warm Indian Summer days evaporated on Halloween, and we're now in the cold and wet phase of the season.
Hunting, NOT Shopping
For those of you who do not hunt, let me say that hunting isn't shopping.  You go where you hope there are animals — and you hope you can get close enough to humanely shoot one.  I say humanely because neither I nor my husband want an animal to suffer.  We want a clean, fast kill.
Wild animals generally don't stand still for you to shoot.  Once they figure you out, they beat feet to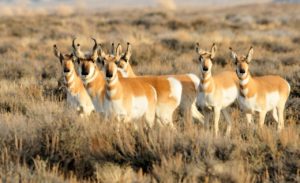 the next county–or next country, for that matter.  Having gotten within 300 yards (that's three football fields) of a pronghorn antelope I was trying to shoot and having the entire herd bust us and run away at 60 miles per hour (second fastest land animal), let me say, it has been more than frustrating.
300 yards.  Sigh.  They looked microscopic in my scope.  They were out of my comfort range, so I didn't take the shot.  The days I counted on hunting antelope seemed to evaporate quickly.  I just have a few more days and then the antelope season disappears for this year.
When Skadi Helps You Out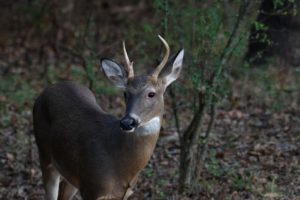 So, I'm running late to get to an appointment.  I'm cold, I'm tired, and I'm sore from chasing animals in the back country.  I literally get in the car and am about to turn the key when I look up.  About fifty yards away from the truck is a buck.  A legal buck.  In a safe place with good angles, if I shot him.  The only bad side of the entire thing is that, well, I'm in my truck.  Without my rifle, orange, or tags.  And I'm late, late, late to an appointment.  Oh, and if he leaves, he's going down a 50 plus foot embankment, and assuming I hit him, I'm going to have a Hel of a time trying to get him out of there by myself until my husband comes home.
What would Skadi do?  (WWSD?)
What would Skadi do?  I could reschedule the appointment, but not the buck.  I got out of the truck and went back inside.  I knew damn well that deer would vanish by the time I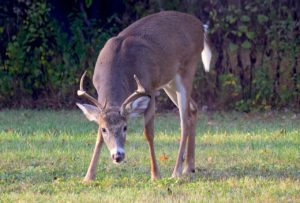 got my rifle and orange, but I got them anyway.  I walked out of the house.  He was still there.  I walked down the drive to get a better shot and to ensure I wasn't going to hit anything I didn't intend on hitting.  He just stood there watching me.
I aimed and pressed the trigger. No buck fever.  No shaking.  Just me and the buck.  Nothing.  Shit.  I forgot to take the safety off.  Again, lined up on him.  Pressed the trigger.  Loud boom and the buck dropped right then and there.  No fuss, no muss.  I went over to him and was about to put another round into him, only, he stopped moving and died right where he had stood.  I thanked him and Skadi.  As I've said, wild animals don't hang around once they figure you out.  The only thing I could think of was that the slack wind might have kept him from smelling me.  Either that or Skadi wanted me to have him.
Now the Work Begins
After tagging the critter, I went back inside and rescheduled my appointment.  Then, there was the little problem of getting such a big animal to my house.  I thought about gutting him right there, but I really didn't want a bear so close to my house.  (Yeah, I live that close to the back country.)  So, I drove my truck to him.  Only, he was beyond heavy.  I'm guessing he was close to 200 lbs.  It took me two hours to get him into the house to gut and skin him.  By the time my husband got home, I was finally pulling off the backstraps. It took me three more hours to gut, skin, and quarter by myself because I'm used to doing this with someone else.
So, I have a quartered deer waiting for me to butcher. And blood everywhere.  And I do mean EVERYWHERE.  I had to wash my clothes, hoping the blood would come out.  Hel, I left bloody footprints all over the house.  Thank the gods I have tile and not carpet.
Skadi asked me for the liver, which I will oblige.  Beyond that, I at least have put bullet into animal and came away with more food right after Winternight.  And now I have four animals down, which means I still must get more if I'm to get enough meat for the year.
Winter hunting.  Yeah, it's kind of like that.