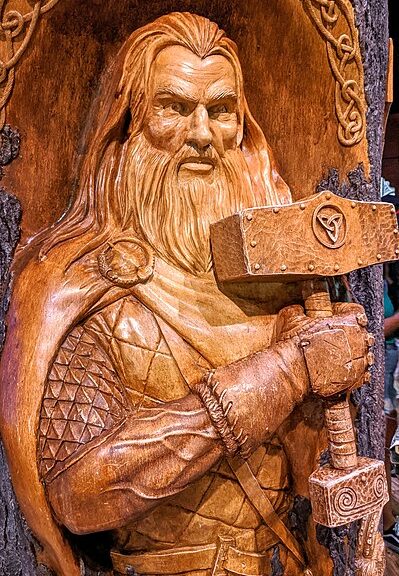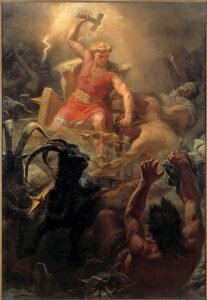 Thor is one of the most popular Norse gods, renowned for his superhuman strength and courage. An Aesir, Thor is the god of thunder, lightning, and storms. He is a major figure in Norse mythology, appearing in several forms, including in the Prose Edda, the Heimskringla, and the sagas of Icelanders.
Who is Thor?
Thor is a powerful and complex deity whose story has been retold throughout history. He is the son of Odin, the Allfather, and the giantess Jörð.
Thor is a fierce warrior who is strong and courageous, and the protector of the Gods, Midgard, and its inhabitants. He wields a mighty hammer, Mjöllnir, which helps him control the forces of nature, like lightning and thunder. The hammer is so powerful that nothing can withstand its force, except for the scales of the serpent, Jörmungandr.
Thor's Role Among the Gods
In Norse mythology, Thor has several roles and responsibilities. He is the God of Thunder, the protector of Asgard and the realm of the Gods. Thor is also the guardian and protector of the humans and other creatures of Midgard. He is the god of strength and courage, and portrayed as a mighty warrior. Stories of his battles with giants and other creatures of chaos depict his mighty strength.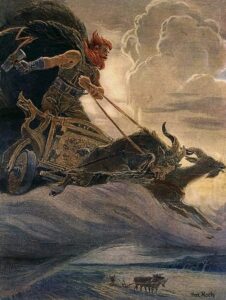 Thor's chariot is pulled by two magical goats, Tanngnjostr and Tanngrisnir. These magical goats pull the chariot through the sky and carry him wherever he wished. Thor would summon the goats with Mjöllnir and they would pull him and his chariot, allowing him to travel across the nine realms. According to legend, after a journey Thor would kill the goats and eat them, but the next day they would be magically restored to life.
Thor at Ragnarok
His most famous story is that of Thor and Jörmungandr, where the giant serpent challeges him.  Unfortunately, his hammer, Mjöllnir, is unable to stop Jörmungandr. To defeat the great serpent, Thor engages in a fierce battle using strength and courage and is eventually successful in killing the giant creature, losing his own life in the battle.
Modern-Day Thor
In modern times, people consider Thor as a symbol of strength, courage and resilience. He is also a popular figure in pop culture, appearing in comic books, movies and other forms of media. Of course, he is one of the gods Heathens venerate.
Nature Associations
At one point in time, our ancestors may have associated Thor with the sun and the sky, because of his control over the forces of nature. This could be one explanation for why his hammer, Mjöllnir, is depicted with a whirlwind around it, representing the wind and storm of Thor himself.
Thor is an important figure in Norse mythology, and his stories and adventures remain a part of modern culture. People often describe him as the god of thunder, strength, and courage. He is the fierce warrior and protector of the gods, Midgard, and its inhabitants. His strength and courage are legendary, and his stories will continue to be retold for generations to come.
—
Did you know you can become my patron for as little as $5 a month? This entitles you to content not posted anywhere else. Plus you get to see posts like this three days before the public! Without patrons, I'd be having a very hard time keeping this blog going. Become a patron today! Become a Patron!