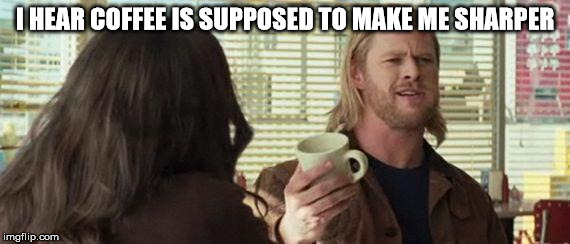 Is Thor Stupid?
Is Thor Stupid?
It seems to me that there are two camps when it comes to Thor: those who think he's at least average intelligence (for a god, whatever that is), and those who think he's maybe not as dumb as a post, but would be challenged by one occasionally.  Since I picked on Thor last week, I'm going to test his good graces again and tackle his intellect.
All Brawn and No Brains
I suspect that thinking Thor is stupid is a relatively recent phenomena which has to do with our current stereotypes.  Although the stereotypes are changing, the common stereotype of the muscle man is the stupid jock. I think, rightly or wrongly, that stereotype has been crafted over the years.  Although science disagrees that people who are athletic are stupid, it's still a stereotype that is perpetuated.  I did a quick look on the Internet in the quest for the search of why muscular people, particularly men, are considered stupid. I found a reference on that oh-so-accurate Wikipedia (that was sarcasm, for those not paying attention), and even a blog which mentions a study on it.
My Own Experience with Jocks
Growing up, I had the joy of dealing with bullies, and dealing with kids who were naturally better at sports. I had undiagnosed asthma which precluded me from doing well in physical activities when I was younger.  This was during a time when people thought asthma was "all in your head."  It took years for me to admit I have it, and now that I do, life is much, much easier. But I digress.  Most of those kids were, well — not the brainiest — and those who were smart, tended to hide it for fear of being bullied.  To add to the stereotype, I grew up when nerdy guys in lab coats got people to the moon.
In college, I saw kids who got scholarships and were treated like gold because they were good in sports.  While not all the jocks were stupid, many were not the sharpest knives in the drawer, because they often were given a pass.  I went into the sciences, geek girl that I am.  So, the stupid jock was commonplace.
My junior and senior year, I worked out and trained in martial arts.  So, I got to know the weightlifters.  Many had been the kids everyone picked on when they were small; a good portion of them were introverts. So, they did the best thing they could think of: not become a target. Many of the people I knew in martial arts were smart.  Yes, there were the average and idiots in the group as well, but most I would categorize as being clever enough.
So, why the dichotomy?
When We Moved from Agrarian to Industrial
I think that the shift in emphasis started in the 18th century, but really didn't take hold until the 19th century and early 20th century where people started separating themselves into white collar and blue collar (note: this is not a rich versus poor argument).  My parents looked down on those who didn't have office jobs as being unable to be smart enough to attain those positions.  Never mind that many of the blue collar jobs paid better than white collar jobs.  I suspect that this attitude was fostered though the colleges and through those who were able to work pushing paper for a living.  I suspect that the GI Bill after WWII and emphasis into getting higher degrees also pushed more people into thinking that manual labor means you can't hack an office job.
I've already mentioned the moonshots, which were a result of the cold war. In fact, I suspect that the emphasis going into science and other intellectual activities caused a bigger split, suggesting that you couldn't be both strong and smart.  Sure, we had our Hollywood heroes, but they emphasized not  strength, per se, but beauty. Professional athletes were always admired, but they were never considered brilliant, except when it pertained to their performance
When Physical Prowess was Admired
It used to not be that way.  Prowess in sports suggested you were good on the battlefield. Being physically fit has paramount before firearms became prevalent. After all, whether you lived or died, whether your family would survive, and whether you had enough food was largely dependent on your fitness and skill as a hunter, warrior, and farmer.  Firearms replaced swords, pikes, maces, and knives, and armor went away.  No longer did you have to carry some 50 to 70 pounds of armor and weaponry.  While there were wars, most problems were resolved in torte.
Brains and brawn weren't considered mutually exclusive.  Many warriors were considered clever and intelligent.
So, What About Thor?
I feel that Thor has gotten a bad rap, not because he's stupid, but because he has likable characteristics that make him more…well, human. Somehow he loses Mjolnir, and has to go in drag to get it back.  He journeys with Loki to Jotunheim and yes, he is tricked by the Jotun's magic, but then so is Loki.  Then, there's the story how Thor tricks a dwarf who is about to marry his daughter in the Alvissmal where the gods promised Thor's daughter while he was away. Tricking a dwarf to stay above ground after sunrise (and thus turned to stone) doesn't suggest a stupid god.
My UPG Take on Thor
I am not an expert when it comes to Thor, but what little dealings I've had with him shows me a strong and compassionate champion.  Yes, he has a temper; yes, he is not beyond using his strength. But I have noticed that he is more likely to forgive if someone makes an error like Thjálfi did in breaking the bone of his goat and sucking out the marrow. As one of the gods who favors humanity, I can think of no better champion.
I don't think Thor is stupid.  I think that because his strength is so great, we sometimes don't take into account that Thor is smart too.  After all, he's the son of Odin and Jord.  Would Odin have a stupid kid?  I don't think so.