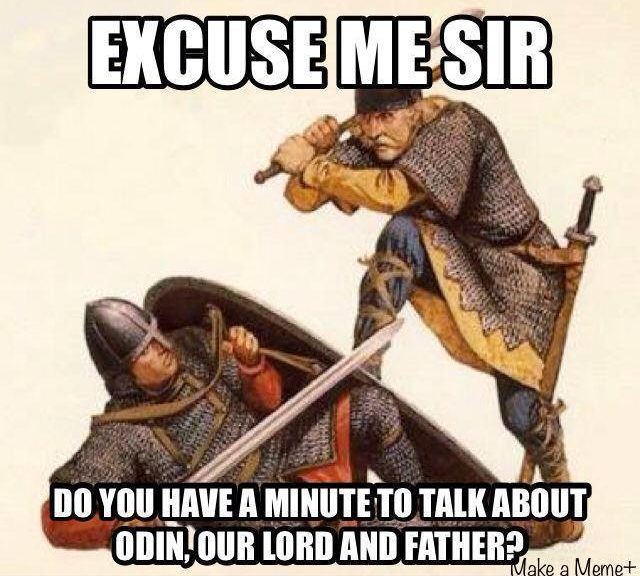 Can a Heathen follow Christ?
Oy!  — did I step in this, or what?  Today I had some Christian missionaries show up (I suspect Mormons) who wanted to talk with me about their god.  When I said "no," they wanted to leave materials with me. I told them "no" again.  Basically I was annoyed as Hel because I was looking for deer to hunt and their presence did nothing other than scare critters away.
Deep Thoughts
But I had already started this post before they showed up, and I've been thinking about my Christian roots and also how some pagans and heathens are willing to keep the Christ in their lives. I believe strongly that while the intentions are good, this idea is at best misguided. Here is why I think you can't be heathen and Christian.  Come to think of it, I really don't think you can be Christian and anything else.
Yes, yes, there are signs that in Iceland, for example, people mingled the two religions with the wolf cross, but I think it was more of a heathen hold out and not actual dual worship. As Iceland became more Christianized, having a Mjolnir that could be mistaken as a Christian cross was probably more for blending in than worshiping both the gods and the Christian god.
Basis of the Abrahamic Religions
It's not that the Aesir and Vanir forbid worship of the Christ or the Abrahamic god. I suspect that if I had a discussion with my patron god about it, he would probably tell me that I could do whatever I wanted on that score, but the whole idea is kind of folly. The reason is simple: the god of the Abrahamic religions doesn't want people to worship anything else. While I do not "worship" my Aesir and Vanir gods, per se, I do have a close relationship with them that I did not have with the Christian god. I will not abandon them because they do not abandon me. That is the definition of my relationship with my gods. Yours may be different.
I have plenty of proof to back up that the Abrahamic god does not suffer any other gods, and it is all in their bible. Old Testament or New Testament, it doesn't matter. You worship other gods and you're out. Just the statement in Deuteronomy 6:14 should give any pagan or heathen pause for thought:
"You shall fear only the LORD your God; and you shall worship Him and swear by His name. 14"You shall not follow other gods, any of the gods of the peoples who surround you, 15for the LORD your God in the midst of you is a jealous God; otherwise the anger of the LORD your God will be kindled against you, and He will wipe you off the face of the earth.…"
Well, okay then. The New Testament says similar things such as:
1 John 5:21
"Dear children, keep yourselves from idols."
We know that Christians consider any other gods to be idols and not real gods, as though heathens worship the images they create and not the god whose image is supposed to suggest a likeness.
So if you're a heathen, you're worshiping demons in the eyes of their god. Another heathen wrote about the very same thing in this blog. So, if you're really set on worshiping a god who hates your guts, despite your good intentions, that's your business.
St. Boniface and Thor's Oak
Perhaps the most telling of what Christians think of the heathen gods is demonstrated in the story about St. Boniface and Thor's Oak. Boniface showed up in a town in Hesse and took an ax to the sacred tree. How much of the story is propaganda and how much is reality leaves much to conjecture. (For example, the Catholics claim that children were sacrificed to Thor.) Regardless, we do know that Boniface did take an ax to a sacred tree of Thor and built a church to St. Peter from the wood. Many sacred groves were destroyed because of Christians.
While I am in no way for something as heinous as human sacrifice, I do have to point out that history is often written by the victors. How much went on is probably exaggerated. Talk about sacrificing children and most rational people would say that the religion was evil that did it. But that is another topic for another time. My point with Thor's Oak is that it shows what lengths Christians will go to  to eliminate other gods. So, when you worship their god, you align yourself with those who would destroy your gods. Does that even make sense?
Did Christ Even Exist?
This is a sticky subject but one I'm willing to go out on a limb about. I suspect that Christ is a made up construct for the budding church. There were no written accounts of Jesus during the time he purportedly lived. The Gospels, even the earliest one, Mark, were written a hundred years or more after Christ's purported birth. They contradict each other in terms of facts. What's more, no pagan or writer contemporaries of Jesus Christ wrote about him. We can see that Tacitus was writing in the second century and not during the time of Jesus. Josephus wrote about Christ somewhere around 75 CE, but his work may actually be later work of Christians. This is all assuming that Josephus was even around during Christ's life.
I can go on and on about this, but I think this is going to wait for another day when I feel like tackling it. All I can say is that if you do follow Christ and the Aesir and Vanir, perhaps I've given you something to think about.