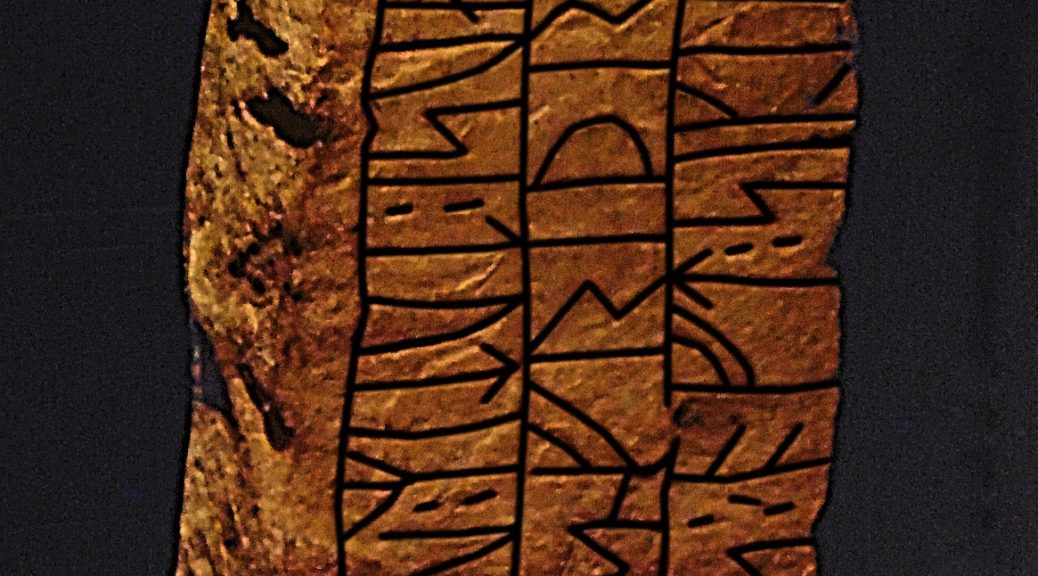 Which Runic Alphabet Should You Choose for Casting?
With all this talk about runes here, at this point you're probably thinking you're ready to make or buy some runes and begin casting. Well, maybe. Which runic alphabet should you choose for casting, exactly? Elder Futhark? Younger Futhark? Anglo Saxon? Danish runes? Norwegian-Swedish runes? Something else?
Okay, maybe you have heard that there are different versions of the runes. But which one will you use to cast? Let's talk about them and see which makes sense for you to use.
The Elder Futhark

The Elder Futhark are the oldest runes we know about, having been around between 150 and 800 CE or AD. These runes were first used by Germanic tribes in Northern Germany, Norway, Sweden, and Denmark. Called the Elder Futhark because the first letters of the alphabet are F U TH A R and K. (There's your answer for Trival Pursuit, Norse Style. You're welcome.)
Not surprisingly, these are the runes we see the most of when it comes to rune sets. A lot has been written on divination with Elder Futhark runes. These are the runes I use to cast, mainly because they are the ones I was first introduced to.
The Younger Futhark
The Younger Futhark is actually two different types of runic alphabets. You can choose either the Danish runes or the Norwegian-Swedish runes. The Danish runes are called the Long

Branch runes while the Norwegian-Swedish runes are called the Short-Twig or Rök runes. These runes came into being around the 8th century to about the 12th century, when the Latin alphabet took over.
Anglo-Saxon Runes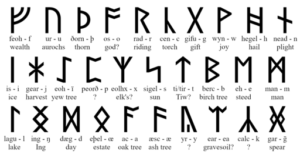 The Anglo-Saxon runes or Anglo-Frisian runes are collectively known as the Futhorc because those are the first letters of that runic alphabet. The earliest form of the Futhorc looked almost exactly like the Elder Futhark with three more runes in the 5th century. By the 7th century, most of the Anglo-Saxon runes had been replaced by the Latin alphabet, but it was still used occasionally up until the 12th century.
Marcomannic Runes
These runes appeared in a treaty called De Inventione Litterarum which attributes these runes to Marcomanni, hence the name. It's a merger of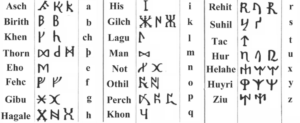 Elder Futhark and Futhorc runes. The manuscript was drawn up in the southern part of the Carolingian Empire, around Bavaria. These runes are supposedly in use in the 8th and 9th centuries.
Medieval Runes

Although Scandinavia was now Christianized, people still used runes, blending them with the Latin alphabet. They were used between the 12th and 15th centuries.
Dalecarlian Runes
In some isolated areas in Sweden, particularly Dalarna, people used runes to transcribe Elfdalian from the 16th up until the 20th century. Also called Dal Runes, it's unknown if the runes in
the 19th and 20th centuries were in common use or if they were learned from books and used in scholarly writings.
Which Runic Alphabet Should You Use?
With so many versions of the runes available, it may be difficult to decide on which one works for you. At this point, my advice is to look at the runes and decide which one actually calls to you the most. Maybe try making your own runes on index cards or Popsicle sticks and play around with them a bit to see if you want to make some more permanent runes with them.

Obviously, if you want to go with the Elder Futhark, you're in good company and there is a lot written about that runic alphabet in terms of divination. But you can find information about the Younger Futhark, Futhorc, and other runes around. If this becomes particularly popular, I may just cover them after I cover the Elder Futhark.
—
Disclaimer: There are associate links to products in this post. If you choose to buy something, I get a small stipend which helps support The Rational Heathen website. Honestly, I could use the money because this site now gets a boatload of traffic that has forced me to pay for Virtual Private Server. True story. You can also support me on Patreon for just $1 per original article.
Become a Patron!