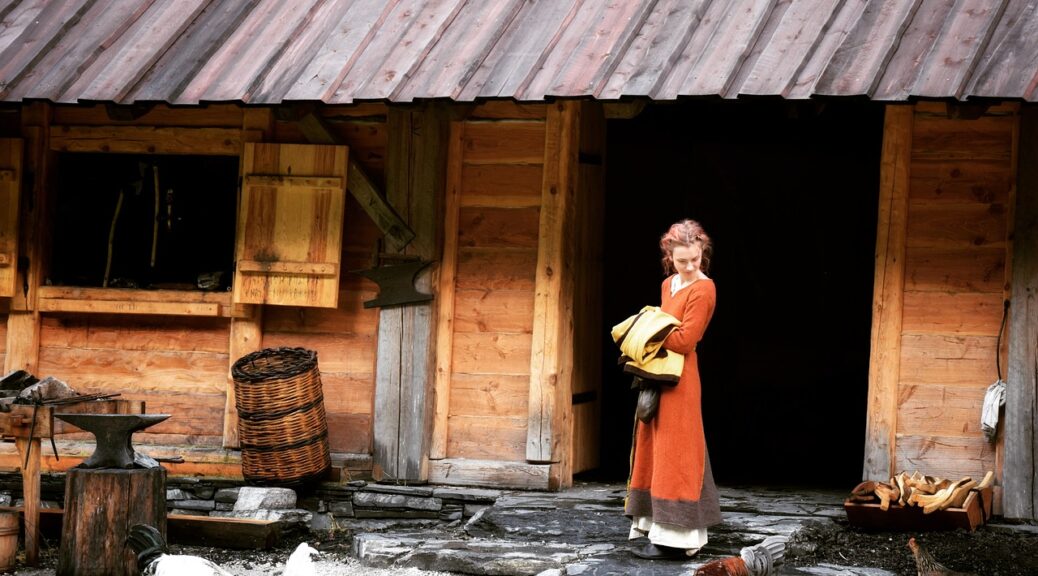 Viking Winter Preparations and Activities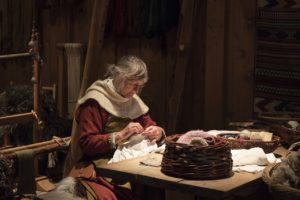 I thought I'd talk about Viking winter preparations and activities since we're in December. Preparing for winter isn't something we modern Heathens have to worry about much. I mean, maybe you get your car serviced or make sure that you've got snow tires on your car, but actual winter preparations isn't usually something most people in modern, developed countries really have to worry about.
I often ponder how our ancestors coped with their hard lives in the context of the seasons. While many of us are worried about preparing for back-to-school and the holidays, our Northern ancestors were engaged in surviving another winter with brutal cold and an unforgiving landscape. Little wonder that they turned to the gods to aid them when they could.
Viking Winter Preparations and Activities: Food for Thought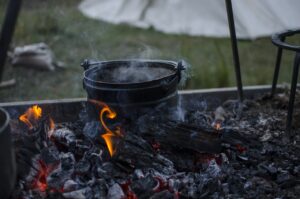 So what were the Viking winter preparations and activities? Most of our ancestors were farmers until modern times. Farming, in most cases, was how people supported themselves, their families, and their communities. They might have been required to pay their lord a certain percentage of food they grew, but in many cases, what people grew was necessary for survival during the winter months.
Most of what people ate were foods that they grew, raised, gathered, or hunted. Sure you might trade with your fellow landowner for something they grew, or occasionally bought exotic foods or spices from traders, but for the most part, your food was what you could produce.
If you had need of work such as a blacksmith, you might employ one, have a slave who could do the work, or do it yourself. You might pay in barter, such as food or products the smith might need, or if you obtained silver from raiding or trade, you might use that as payment.
Winter Celebrations
No doubt winter was a time for celebrating, since the farm work was pretty much done, especially if the harvest was good. After slaughtering the animals you weren't going to keep through the winter, you had an abundance of meat, which meant preserving it or feasting on it.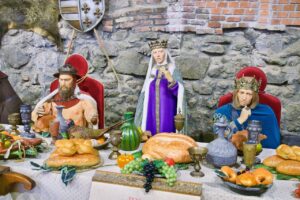 I was listening to a podcast the other day where the expert pointed out that feasts in the Middle Ages were often used to show status. The lord would often have feasts to show off his wealth by offering foods that perhaps others didn't have. This gave them a higher status in the community, or more cred.
Using feasts to show off one's generousity and wealth makes sense. Cred, even back then, was vitally important in small communities. So, even our Viking ancestors probably showed off their wealth by providing feasts. What better time than after harvest and at solstice?
Winter Fun and Games
So, with all this time, what did our ancestors do? Sure, they hunted, tended to their animals and equipment, and preserved food, but they had free time. Much of it was spend playing games and doing outdoor activities.
tafl Games
Apparently, Northern peoples were gamers and played a lot of "tafl games" or table games. We know they played Hnefatafl, which died out when chess became popular. We only know the play rules because the Sami played a variation of it that is called Tablut. Tablut was still played in the 18th century and a clever botanist wrote down the rules during an expedition to Lapland.
There's a lengthy explanation why Hnefatafl is a reconstucted game, including poor translations of the botanist's writings and that's it's a variant and probably not the actual game.
Anyway, you can play it online, if you want to experience Hnefatafl. I've just downloaded an app to play, so feel free to search for it in the playstore. It's also available as boardgames, so check out the links below.


Kubb or Viking Chess
Kubb is an outside game that some people in Norway call "Viking Chess." It's played with wooden blocks. It's considered more of an summer game than one in the winter, and its dubious whether the Vikings actually played it, but what the Hel? You can have fun playing it anyway.  The instructions for playing are in the link above. You can also get some nifty Kubb Games HERE.
Kubb took off in the 1990s, and from the resource mentioned above, there's no mention of it beyond a century ago. However, since our religion is largely a reconstruction with debatably accurate sources, adding Kubb to your family's and friends' game list isn't like Thor or Odin is going to smite you for introducing an anachronism. Besides the game sounds like something a bunch of drunk Vikings could have made up.
Viking Winter Preparations and Activities: Skiing, Snowshoeing, and Ice Skating
I suppose one can't talk about northern peoples without mentioning skiing, snowshoeing, and ice skating. Our Northern ancestors didn't invent any of those modes of transportation, but they sure did make them popular.
Snowshoeing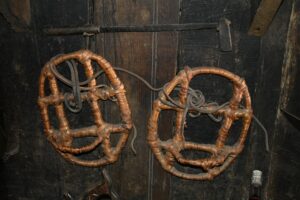 Snowshoeing was invented at least 8000 years ago in central Asia, according to Snowshoe Magazine. The first snowshoe artifacts archaeologists have uncovered date to 4000 BCE, and archaeologists believe humans used them well before that. It's assumed that snowshoes existed before skis although there have been skis uncovered in Russia that date to 8000 BCE. Archaeologists hypothesize that people looked at the feet of animals who could walk on snow and mimicked their pads by creating a snowshoe that could spread their own weight over a wider surface area.
We know that the ancestors used snowshoes as their primary transportation when crossing the Bering Land Bridge to North America. How do we know this? Archaeologists have discovered that indigenous peoples still used snowshoes, but not skis. European ancestors tend to favor skis as they traveled west, which is why we see skiing as a popular sport originating in Europe.
Skis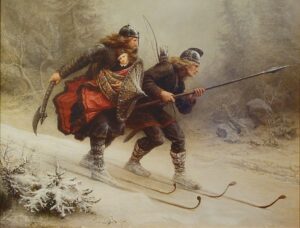 Skis came about as people looked for faster ways to move over snow. According to the Encyclopedia Brittanica, skis were invented at least 10,000 years ago. Apparently archaeologists found skis in Russia dating to 7500 to 8000 BCE. We know that there's a rock carving depicting skis and skiing in Norway that was carved 4000 BCE and pieces of skis from a Swedish bog date to around 3500 BCE.
As an aside, I expect the discrepancy in time between snowshoes and skis has to do with what is considered a ski and a snowshoe in the past. Skis often resembled snowshoes, and snowshoes might have resembled skis at one point, leaving it all to conjecture.
Although the Vikings didn't invent skiing, the Norse actually gave the name to skis. We got the words ski and skiing from skríða á skíðum—"to stride on skis." How awesome is that? Anyway, in 1274 the Norse had to outlaw hunting moose while the hunter was on skis because moose were in danger of becoming extinct. Wow. That's really bizarre. Who would've thought skis would be a huge advantage when it came to hunting moose?
Ice Skating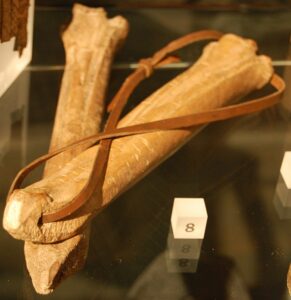 Skate like a Viking! Seriously, our Norse ancestors strapped shin bones of deer or oxen to their feet to skate on the ice. They even used animal fat to make them slipperier. Some Norse used iron, but those who used bone skates tended to be faster. Probably had to do with the smoothness and the friction. Unlike skating blades people use nowadays, these were large, flat surfaces.
The Norse even held speed skating competitions where winners would receive prizes in the form of silver spoons, copper pots, swords, and young horses.
I think this blog post is long enough when it comes to Viking winter preparations and activities. Let me know what you think.
—
Disclaimer: This post contains affiliate links. If you purchase something from these links, I get a small stipend which helps support The Rational Heathen. I would encourage you to support my site. Thanks.
Did you know you can become my patron for as little as $5 a month? This entitles you to content not posted anywhere else. Plus you get to see posts like this three days before the public! Without patrons, I'd be having a very hard time keeping this blog going. Become a patron today!Become a Patron!