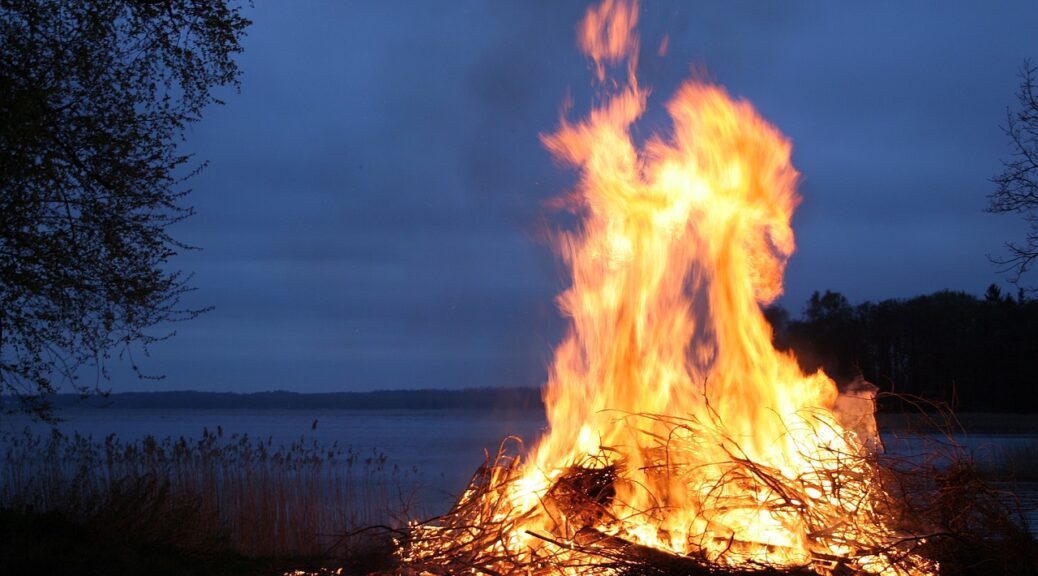 The Viking Month of Mörsugur, or the Bone-Sucking Month
Well, it's that time again to talk about the Viking Calendar. This month is Mörsugur, the second Yule month. Mörsugur is also known as jólmanoðr (Yule Month) and hrutmánuðr/hrutmánaðr (Ram Month). It is the third winter month. Yule proper occurs during Mörsugur.
Mörsugur: Why Bone-Sucking Month?
The name seems odd to our modern sensibilities. Mörsugur is the fat and bone-sucking month because that's how our ancestors got their calories during this freezing time. By cracking open bones and sucking on them to get the marrow, the Northen ancestors were able to get enough nutrition to survive the cold.
Mörsugur, aptly translated to "the bone-sucking month", is an ancient Viking month held in winter right after Yule (the winter solstice). It is the coldest, longest and darkest of all Viking months as the days near Yule are the shortest. This is because Mörsugur occurs at the end of winter and marks the point when the sun returns and the first signs of spring begin to appear.
Mörsugur ran from mid to late December into January. At this time, there weren't any fresh vegetables or fruit. If you ate fresh food at all, it came from animals: meat, fat, eggs, milk, and products from those foods.
Bone-Sucking Tradition
The name may have originated from the traditions the Vikings practiced during Mörsugur, when the whole community would undertake a "bone-sucking" ceremony. The Norse practiced this tradition while they celebrated the longest night of the year, symbolizing the end of Yule. As part of the ceremony, everyone gathered around to "suck on bones"; they would pass around bones that had been cut up, the pieces containing marrow and fat. This practice was believed to bring good fortune for the upcoming year. Thus the Norse month of Mörsugur started. It was a month-long celebration that occurred during the winter months in Scandinavian and Baltic countries.
The month's name may have also come from an ancient Norse practice called Haflgerðing, or "bone-worming". Norse peoples carved a tiny hole in an animal bone using a knife, and then inserted a small object into the bone, either a piece of cloth or a tiny animal bone. They then buried the bone in the ground, and they believed that by doing this, the gods would more likely grant the wishes of the person who buried the bone.
Our Northern Ancestors Held Celebrations During Mörsugur
Mörsugur was a special month for our ancestors, as it was a time for families and communities to come together and celebrate the winter season. During Mörsugur, our Northern ancestors indulged in their traditions and ancient customs. The center of attention during the month was feasting, drinking, and games. They sang various songs and danced; families and friends enjoyed large feasts. People feasted while sitting around a fire and sipping drinks like mead. Meals included beef or pork, smoked or salted fish, legumes, vegetables, and cheeses.
Playing Games
The Viking played many games, including those played indoors and those played outdoors. Examples of outdoor ngames include rolling snowballs, skis, and sleighs. Indoor games included dice and board games and the Viking version of chess. Like today, people enjoyed parties, both indoors and out. Concerts and theatrical performances were also popular.
Religious Significance of Mörsugur
Mörsugur was also a month of religious observance. People dedicated the Mörsugur celebrations to Odin and Thor. They inscribed runes on tree branches to give luck for the new year. At midwinter, our ancestors lit sacred fires to celebrate the winter solstice. The celebrations emphasized joy over fear. People believed that a good harvest, success, and protection from natural disasters depended on the gods.
During this month, people made offerings of food and drink to the gods and wights. Our ancestors would also offer gifts of horses and weapons to their ancestors. The Vikings lived under the death's constant threat, so this was the time to ask for prosperity from all those who could help them.
Mörsugur Today
Mörsugur was an ancient celebration, yet it still lives on today, through the culture and traditions that are celebrated throughout the Nordic region. In Finland, a special dish called Mustamakkara is prepared during this month, which consists of a black sausage. The Swedes serve a traditional drink called Glogg from Yule until Christmas. In Norway, there is still a tradition of sacrifice to the goddess Freyja during Mörsugur. This sacrifice is a small offering made by throwing coins into a bowl of water.
The month of Mörsugur is a month to celebrate the gods and ask for abundance. The ancient Norse people created these joyful celebrations which we can still enjoy today. The month of Mörsugur is just one of many special occasions in the Viking calendar.
—
Did you know you can become my patron for as little as $5 a month? This entitles you to content not posted anywhere else. Plus you get to see posts like this three days before the public! Without patrons, I'd be having a very hard time keeping this blog going. Become a patron today!Become a Patron!